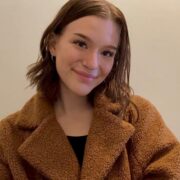 Brooke is a fun and resourceful teacher who enjoys expanding the musical knowledge that she can bring to her students.
Brooke's love for music started at an early age. She started performing piano, singing, and musical theatre in 2009. As she continued her studies, she won many awards at the festivals in Drayton Valley, Alberta. Brooke soon decided that piano was her main focus as she is currently taking Level 9 in Royal Conservatory of Music. Brooke is studying under Skyline's own Mariah Atkinson, and has successfully completed her Level 9 Harmony certificate.  She is currently working on her Level 9 History program and will continue to advance in the Level 10 piano/theory world over the coming year.
Brooke is in her first year of teaching but has a vast music and theory knowledge that she's excited to bring to her new students. Brooke is known for being great with kids and teenagers from her past experience as a caregiver to many children. In her down time, Brooke enjoys listening to music, painting, reading, hiking, and spending time with family.